Our customers have been very gracious in expressing their thanks and praise for the work we have done for them. Below are client testimonials and comments we currently have on file.
We hope their remarks help you understand the extent to which we value the relationship we establish with our clients in and around the Williamsburg, Virginia, community. No project is just a job–it's a chance to help create or improve someone's home or commercial property!
Love our new porch!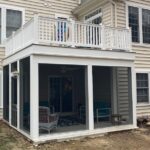 In 2022 we chose AFRoss to build a screened-in porch on the back of our Colonial Heritage home. We chose Andy based on his reputation and his familiarity and experience working within the Colonial Heritage HOA Architectural guidelines.
He advised us that our original plans would never fly with the HOA (an issue of slope of the roof) and he was right! We ended up with a new, better design which now featured a screened-in porch AND a deck on top. We love it!
Andy's crew was excellent…prompt, hard-working, friendly, and they patiently answered all our questions. Andy communicated with us well keeping us informed of "next steps", and when to expect sub-contractors or city inspectors.
And, very importantly, we felt the cost was both reasonable and fair. Can't say it enough: We love our new porch!
Thus, for all the reasons above, we wholeheartedly recommend AFRoss for all your future building projects.
Jim and Connie Thompson
Williamsburg, VA
Jim and Connie Thompson
AF Ross Builders … Don't know why it took so long to find them; but was so glad we when did! Elevated Porch Post Replacements
Honestly, after having so many builders stop by our house to assess our addition's foundation problem, Andy, at AFRoss, LLC, was the only one who actually asked meaningful questions and asked if he could assess the problem by exposing the foundation and who indicated he would be checking the county records to ensure he had a good understanding of the problem. Once he had done so, he proposed a couple of solutions and we were able to discuss with him. He was up front in answering our questions and never offered a cost estimate without fully assessing all the final ramifications. His team was through, timely, and never rushed any step in the process that ultimately took several weeks because of the need to ensure concrete was properly cured; actions we were fully made aware of before the repair was started. All-in–all, my wife and I couldn't have been more satisfied. Do we recommend this firm to others for similar projects … YOU BET WE DO!
Del & Nancy Stout
Porch to Sunroom Conversion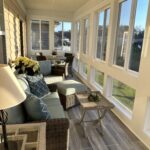 Our Sunroom turned out perfectly! Our outdoor deck was transformed into a beautiful sunroom that we can enjoy all year. We are grateful to Andy and his team at AFRoss for the care and attention they gave our project. They did a wonderful job! Having a reliable and responsible contractor definitely made all the difference. We truly appreciated that his crew arrived on schedule and as promised. We also very much appreciated that they cleaned up before leaving each day. Thank You Andy and Team
James and Judy Austin
Beautiful results from a great team!
AF Ross was recommended to me by a friend for our new deck project, and I am so grateful! Andy and his team did a great job from design to build to final details. He kept us up to date on the process, and the team kept to the proposed timeline in spite of HOA and hot weather limits. The entire experience was great! I can highly recommend AF Ross Builders!
Laurin Wittig
Exceeded Our Expectations!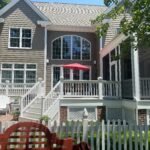 We selected AF Ross Builders to replace our existing decking and porch framing as well as rescreen the porch, install a new screen door and replace the lattice under the deck. We were referred to AFRoss by neighbors who were very pleased with his team's quality of workmanship and professional approach to their project. Our experience was equally outstanding.
Andy provided a competitive estimate and reliable assessment of what our job would entail. When he inspected the railings, for example, he found them in good condition and said they didn't need replacing. He also gladly provided references. The two customers we contacted both gave AF Ross rave reviews!
Our project got underway sooner than expected and was completed in a timely manner. A special thanks goes to our talented crew – Dave, Butch, Steve, Aaron and Corey. Courteous and conscientious, they always arrived on schedule and left the work site clean and orderly.
The team's craftsmanship was top notch, and their attention to detail enhanced our project. For example, they relocated a gate under the front of the porch to the side where it would be out of sight and easier to access. After replacing the lattice under the porch, they trimmed out the steps to match. They also were able to troubleshoot and seamlessly frame an uneven corner on the original porch.
The result was a refreshed outdoor space that exceeded our expectations! We look forward to enjoying our deck and porch for years to come and working with AF Ross Builders on future projects.
Mark Young & Terry Weisz
Outstanding Remodel
We selected AF Ross to do the remodel of our outdoor space. We wanted to add a roof over our deck and reposition our deck stairs to open the view under our deck. We did not realize the amount of work this would entail, but quickly realized we selected the right company for the job. Work was done up to code and passed all county inspections. We are very pleased with the work that was done and will certainly use them again for other remodeling work.
Loren & Rosalie Wingler
Great Job
Andy's crew completed three jobs for us which included framing the basement, extending a deck constructing a trash enclosure. All 3 projects turned out great. The crew ran into a few issues regarding the deck extension, but alerted us to the issues, presented options and completed the work in a timely manner. I really appreciated how the crew kept us informed of the progress. The entire crew was extremely professional and friendly. In addition to the quality work, I also appreciated the way the crew left the work site each evening. The basement was cleaned each day, outdoor tools were put away and great care was taken to maintain the yard as much as possible. Andy was extremely helpful in plan preparation and keeping me informed with start dates and completion dates. I would not hesitate to hire him again or recommend him to friends.
Michael Seigfried
Love our new screened porch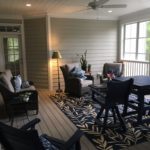 AF Ross converted a screened breezeway into a full-size, three-season porch for us, with EZE-Breeze and screened windows, new recessed lighting, a ceiling fan and better entrances and stairs to our front and our patio. This involved demolition of the old breezeway and new construction that included expanding the roofline, building new footers and decking, and installing new Hardiplank siding on the expanded walls that perfectly matched the rest of the house. From the outside, you would never guess that the new room wasn't part of the house's original design, which was important because of HOA rules.
Andy Ross and his crew, particularly the project supervisor, Dave, paid close attention to all manner of detail, whether it was structural or cosmetic. They made sure the project met James City County's strict building codes and passed all inspections, and assured the appearance was consistent with our HOA's architectural review standards. There were no surprises with cost from the time of our estimate to the project's completion.
We're spending most of our free time on the new porch, and loving it.
Stephen Koff
Deck design and build
We Contracted with AF Ross, LLC to do our deck expansion. Andy worked with us and was very helpful (and patient) as we discussed several design iterations. When we finally settled on the "best" design, he provided us with all of the information necessary to meet our Colonial Heritage HOA requirements and, when approved, promptly began construction.
The project was finished professionally and in good time. I highly recommend Andrew Ross and his company AFRoss, LLC.
Len and Margo Hawkins
Awesome Job on our New Deck!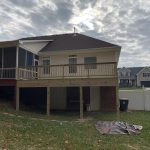 I definitely hired the right company to build our new deck. They listen to the customer! Andrew showed up, listened carefully, and asked important questions about how we wanted the access built, and how we wanted to match the existing screen porch. His team was polite, worked hard, kept the area clean, and created a beautiful new sturdy deck that we will really enjoy for many years to come. AF Ross builds a much better product than I've seen elsewhere. We are completely satisfied with them, and will be using AF Ross for future work as well.
Glenn DesOrmeaux
Excellent work!
Andy & his crew finished our 1,700SF basement in 2019 and just completed a second project– the expansion of our back deck. We got 3 bids on each and AFRoss was the best on both. Andy or his Forman (Butch) always kept us informed on the status of work and, the very few times it happened, made sure we knew if the completion date was going to slip. We greatly appreciated the fact that when AFRoss crews started on our projects, they were there continuously until finished… something several of my neighbors didn't get with their contractors. AFRoss' crews are very professional and keep the job site tidy all the time. Finally, the quality & craftsmanship is outstanding! Butch is a master at making things look perfect!
Tom & Sharon Sobieski
Deck Expansion
We wanted to expand our modest second floor deck with stairs to be able to access a lower level deck as well as the back yard. We asked around for recommendations and our neighbors spoke very highly of Andy Ross and his team. After meeting with Andy and agreeing to a plan, Andy provided drawings and bill of material required for approval by our HOA. He also obtained. the required permits, inspections, and surveys. Once the plan was approved by the HOA, we agreed on a start date and Andy's team, lead by Butch, got to work as promised. Butch and team were always on time, focused and professional. I was able to observe the process and I was impressed not only by their skills and attention to detail, but also by the quality of the materials. The world is round and structures are generally square so it requires artistry as well as science to make structures look great. Andy and team simplified the process for us and we're extremely happy with our new deck and look forward to using it for years to come. I enthusiastically recommend AFRoss, LLC. to anyone looking for a builder you can trust to do the job right!
Skip & Jamie Gaskill
What a Pleasure!
What a pleasure working with Andy Ross and his team at AFRoss, as they created my beautiful new sunroom.  Attentive to every detail and courteous throughout, they deserve a Five Star rating!
Lynne L. Black
An Unconditional Recommendation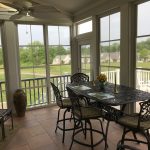 We used AF Ross to convert our screened -in porch to a room that can be used virtually year-round. Andy and crew removed all the original screening material, installed Eze-Breeze windows and a mini-split air conditioning unit, and added insulation. The crew was very skilled, punctual, and courteous, and the result was all we had hoped for and more. We unconditionally recommend him.
Sandi and Bob Rojakovick
"I can't find one thing wrong to say about Andy and his guys"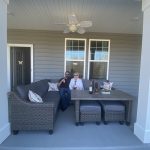 From pricing to finish, I can't find one thing wrong to say about Andy and his guys. Joe and I are enjoying so many good times out on our beautiful well-made deck.  I'm sure if you use AFRoss you will not be disappointed.
Joe and Sharon Wall
Colonial Heritage
A Terrific Experience!!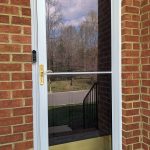 Here's my top line summary: There are two things I want you to know about AF Ross based on my recent experience with them: One is that the quality of their work is superior; two is that they're reliable and easy to do business with.
Let me expand briefly on each of those. Regarding the quality of the work, it's apparent when you watch them work and obvious when you examine the finished results. I have no doubt that Butch and his partner gave my project the same kind of attention they would have given their own homes. This was my first time working with the company but I never felt concerned about the work as it was going on. The crew was professional, methodical, and meticulous.
As for working with the company, Andy was responsive throughout the project and always let me know what was going on. Moreover, when he said that something was going to happen, it always happened when and how I was told it would. End of story. Beyond that, Andy made some great recommendations when we were discussing the outlines of the project. My end result was definitely improved by his expertise. From beginning to end, all of my interactions were positive and productive.
My bottom line is that I wouldn't hesitate to hire these folks again. And I can unreservedly recommend that you should consider doing the same if you have a project that requires a reliable and skilled builder.
George Colombo
Amazing Workmanship
If you are looking for a contractor for modifications to your home, we highly recommend A F Ross Builders, a local company.
We cannot say enough about our experience with the AF Ross Team. Andy's team have performed work in our home adding and modifying kitchen cabinets, installing windows and doors, and enclosing a screened porch. All of the projects were completed in an exemplary fashion. His team are craftsmen who are meticulous in their work and they treat your home as if it were their own. The AF Ross team are true professionals in every aspect of the project from the initial survey/pricing , on time performance, and cleanup after work completion.
The next time you have a modification/construction project give them a call. You will be glad you did.
Al & Chris Simpson
Colonial Heritage
Williamsburg, VA
Alan L Simpson
Would we recommend Andy and his crew? You bet!!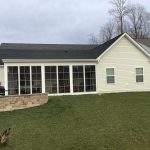 Andy listened to what we wanted made recommendations and followed through with texts, emails, phone calls. Especially, in this pandemic he and his crew were wonderful to work with. The crew was friendly, professional and cleaned up every night just to start again the next day.
Chris & Catherine Zirkle
Great Job-It truly was a pleasure working with such a great team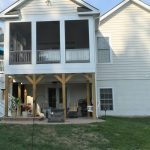 It's been a year since Andy and his crew completed our 3 season porch and we couldn't be happier. Because of the EZ Breeze windows, we have been able to enjoy our porch continuously through each season. It turned out to be a bigger project than we had anticipated but so glad we went with Andy's plan. He and his crew were great to work with–they were always here on time, kept a clean work area, and very friendly. If any mishaps happened, they were quick to go above and beyond to make it right. Andy's attention to detail was fantastic. We would highly recommend them. It truly was a pleasure working with such a great team.
Sharon & Bob Rankin
They paid close attention to all the details
AF Ross remodeled our screened porch. They replaced the existing screening and wooden framing with new vinyl clad framing and Eze-Breeze windows. We were very happy with the results. They paid close attention to all the details. There was a delay in materials due to the Covid-19 pandemic but Andy kept us informed every step along the way.
Would highly recommend AF Ross for any remodeling project, as we used them on a subsequent laundry room remodel.
Mitch & Mary Jo Ward
AF Ross "Andrew" and team were fantastic!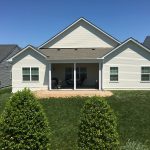 AF Ross "Andrew" and team were fantastic! So why would I recommend them you ask; they are responsive and deliver top notch customer service. I emailed and called several contractors who were slow to call back, overbid, and tried to convince me to do the same old roof type. As a matter of fact we had a facetime meeting because we were unable to be on site during the initial planning phase.
They worked with my design ideas and were very excited about using an open concept of an exposed ceiling that was slatted with rafters-pressure treated. The team attended the HOA meeting to answer questions during the approval process. The team is very professional. Inspections passed through the HOA, JCC, and building inspector with ease.
The work site within the yard was well maintained with nightly clean up. Follow-up calls, txt and emails were responded to timely. I would 100% recommend AF Ross to any of your projects.
We enjoy our covered Veranda. Stop bye for a visual. Good Luck on your next project with AF Ross.
Mike and Lisa Riha
Colonial Heritage
Have found them to provide quality work and craftsmanship
Henderson, Inc. has had the pleasure of working with AFRoss Builders for many years on an assortment of projects, and have found them to provide quality work and craftsmanship. They have a group of dedicated and professional team members and are committed to the safety of their employees and those around them.
AFRoss knows what it takes to get the job done, whether it be a smaller build-out type project or a larger multi-story project, and have proven their ability to meet schedules, stay within budget and work cohesively with ourselves, other subcontractors and owners.
We are happy to have them as a frequent part of our subcontractor team and look forward to continuing our long-standing relationship!
Leslie H. Schultz, Vice President
Henderson, Inc.
Exceptionally skilled and very customer oriented
AF ROSS builders are exceptionally skilled and very customer oriented. I contracted with them to replace the old decking boards, extend the length of my deck 3 feet, and build a pergola over it. Andy Ross drew up the plans and assisted me in getting approval from my HOA, architectural review board. The quality of the lumber used and the skill in which the work was accomplished was exemplary. I am very pleased with the product and would recommend AF ROSS builders to anyone.
David Glass
Very pleased . . .Under budget and met all of our specifications
Idelle and I are very pleased with the work of Andy Ross and his AF Ross team in designing and completing our basement. They came to the job with no preconceived designs and welcomed our ideas and preferred outcomes. In fact, the design phase was truly a collaborative effort where the Ross team tried very hard to accommodate our preferences. When a specific design idea could be accommodated, they explained the most cost effective way to satisfy us. When a given result could not be obtained, they provided an explanation that we understood.
Even as construction was underway, Andy and his team accepted our recommendations for "minor" adjustments. During the construction phase, the Ross team kept its work areas very organized and as clean as possible.
We were very pleased that our basement was completed by AF Ross under budget and met all of our specifications.
We have recommended AF Ross to many of our neighbors and Williamsburg area friends.
E. Quinton Gordon
We would recommend AF Ross Builders for any project big or small
My wife Suzanne & I used AF Ross Builders in 2008 to install a patio, build a deck as well as completely build out & finish our basement. Andy & his team did an excellent job. Andy & Butch worked with us on the design and their estimate was fair & reasonable. We were kept informed of the progress and even when we realized we wanted to change some things they were patient and worked to make things turn out the way we wanted.
As time has gone on we have used AF Ross for little projects as well as in 2010 when we discovered we needed steps added to our deck quickly, Andy not only helped get the project approved by the HOA but came and installed the steps very quickly. We would recommend AF Ross Builders for any project big or small you may have. Feel free to contact me directly.
Michael N. Maher
Did a superb job, and the results are outstanding
Gen and I compliment you on the deck-pergola project you just completed for us:
Removal of our rear patio (concrete slab) and installation of:
custom-designed 390 square-foot deck with two chamfered bump-outs; PVC band board and stair risers; two step-down yard exits; surround railing; low-voltage accent lighting; GFI electrical outlet extension; a 10'x13' double-tiered pergola with colonial pillars—extending from the rear roof-line of the house; sub-floor weed block; and 1"x1" lattice underdeck screening
a natural-gas line for a grill on the deck
matching exterior electric wall sconces flanking the deck
You did a superb job, and the results are outstanding.  We could not be more pleased.  You met or exceeded our expectations for aesthetics and quality craftsmanship.
We particularly appreciate your patience, cooperation, and constructive suggestions during concept development and your initiative in meeting with the Architectural Review Committee to advocate for the proposal Gen and I submitted to the Homeowners Association.  You are responsive to customer needs, do precision work, and deliver all that you promise and more—on schedule and under budget.
Special commendation goes to Thomas "Butch" Walsh who, as you know, ended up performing the vast majority of the construction work by himself.  Few craftsmen have as commendable a work ethic as does Butch—none better.  We greatly appreciated his organization, reliability, punctuality, skill, and attention to detail/adherence to spec.  Gen and I particularly valued his regular coordination with us—coordination that either yielded positive refinements to the basic design or assured sound decisions during execution of the plan.
You and Butch are consummate professionals, and, without reservation, we would recommend AF Ross to any-one in need of a quality professional builder.
John Hart
Andy takes great pride in the work he does and it shows.
Over two years ago Andy and Butch came to build a screened in deck for me. Andy designed it before building it. He did a great job. This was not an easy task. The deck is quite a distance from the ground. The job was done on schedule.
So many neighbors of mine have commented about how beautiful the deck is. The great thing is Andy takes great pride in the work he does and it shows. Further his character is above board. I highly recommend him to anyone.
Joyce Cavanaugh
From start to finish they do really excellent work.
For those interested in a home improvement project, either large or small, we recommend "AF Ross Builders" for a thorough, professional and very competitively priced job. Andy and his crew have completed a nearly 350 square foot deck on our home as well as the addition of French Doors on a newly constructed interior wall, repairs to the molding around our garage door, and the addition of a wall and door dividing a large bedroom creating much needed storage space. Each project was finished on time, on budget, and in a clean professional manner.
Andy and his team, especially "Butch" Walsh, are experts and frequently suggested alternative plans that greatly improved our project results. From start to finish, including plans and permits, they do really excellent work.
Pat & Mike Tarr
Andy and his team are the very best professionals
Last year my husband, Paul, and I had AF Ross design and build a three-season room for us on an existing open back porch.
Andy designed the room with care and precision and, without a doubt, exceeded all of our expectations. Butch and Kendall built the structure with expert craftsmanship using the quality materials and E-Z Breeze combination windows recommended by Andy. We would like to extend special kudos to Butch who did most of the construction work and is always on point.
The overall design and outstanding workmanship makes the finished product look as though it was always there and built along with the house. As a result, we have a beautiful addition to our home. Andy and his team are the very best professionals we could have had for the job. From start to finish they were always available, on schedule, on budget, paid great attention to every detail of the job and kept a very clean work site at all times.
We could not be happier with the spectacular outcome and would recommend AF Ross, Andy and his team, to anyone for their building projects.
Ellen Snow
Thank you for the highly functional porch
My husband and I wish to thank you for the highly functional porch that you built onto our home. You listened to our ideas and worked with us to add a new dynamic space for our family gatherings. The porch is well-built, properly insulated with excellent windows, lighting & ventilation. This expanded living and entertainment space has provided many hours of enjoyment to our lives. We would highly recommend it to anyone.
The O'Donnells
Highly recommend Andy and his company for any job, big or small.
We had Andy add a sun room to our home. He is very professional and a great guy to work with. He delivers on schedule and his prices are very competitive. His carpenters are very knowledgeable and do excellent work (especially Butch). We highly recommend Andy and his company for any job, big or small.
Elaine and Gerry Schrader
We could not be more pleased!
Andy built a sunroom addition for us, opening up a gorgeous view to the golf course we live on. He and his crew are very professional, courteous, quiet and keep the construction site clean! Andy followed the timeline of the project, the crew arrived at 7 am on the dot every day! They worked closely with the landscaping/patio crew. We couldn't be more pleased and receive compliments on the room. Thank you Andy!
Kathleen Henderson
AF Ross, LLC
116 Tewning Rd
Williamsburg, VA 23188
Phone: 757.221.9671
Fax: 757.221.0336
Email: info@afrossllc.com
Phone: 757.221.9671
Fax: 757.221.0336
Email: info@afrossllc.com
AF Ross, LLC
116 Tewning Rd
Williamsburg, VA 23188
AF Ross, LLC
116 Tewning Rd
Williamsburg, VA 23188
Phone: 757.221.9671
Fax: 757.221.0336
Email: info@afrossllc.com